Monogram originally released the Dodge Ramcharger in 1980. The kit was molded in off-white, carried the stock number 2263, and depicted the 1979-1980 body style. This kit depicts a stock, four wheel drive model of the Ramcharger. Options include a CB radio/antenna and a roll bar. Wheels are 5-slot mags with Goodyear Tracker A-Ts.

Carrying on with the company-wide High Roller theme, in 1981 the Ramcharger was reissued. Kit 2272, this issue features the raised suspension and Ground Hawg tires common to the High Roller series. Molded in yellow plastic, this version adds aftermarket bumpers, side steps, off-road lights, roof rack, and fender flares. Rims for this version are chrome wagon wheels.

After Monogram's acquisition of Revell,, they decided to reissue the Ramcharger again in 1992 as a Revell-branded kit. This issue, 85-7242, was bundled with a trailer and boat, following along with a set of tow-vehicle-trailer-and-boat series Revell was marketing at the time. This version is molded in white plastic and contains all the components of the original 1980 release with the addition of a trailer hitch.

Possibly as a result of consumer requests or a search of available back catalogue kits to reissue for minimum cost, Revell reissued the Ramcharger again in 2016. Again molded in white with a refreshed version of the original decal sheet that depicts the available Top Hand graphics package, this kit was issued as part of the Trucks series and given the number 85-4732.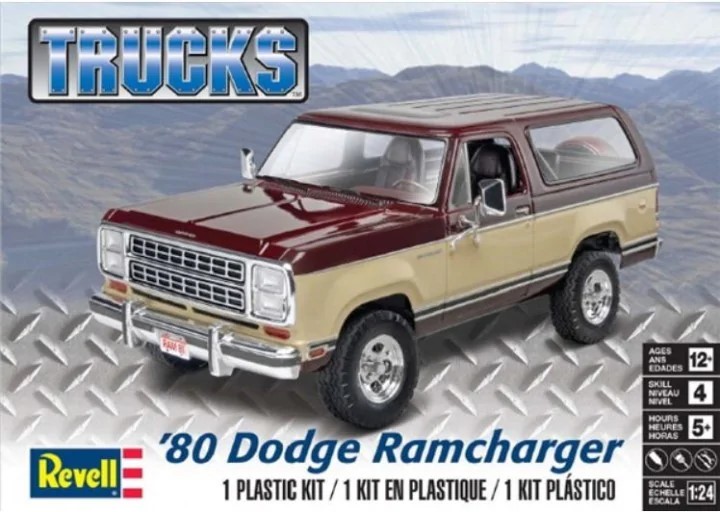 Originally posted on Model Cars Magazine message board 8 March 2012. If you would like to share this article, please remember to credit the source.