I confess that I had no love for the Revell squarebody kits. That being said, once I started researching this tooling due to many requests and confusions with the Monogram squarebody kits, I discovered that out of the three manufacturers the Revell version is the most diverse. I have catalogued 22 different issues of this tooling spanning from 1978 through to 2012. The Revell kit also has the distinction of being the only squarebody kit ever issued in ensemble packs with trailers and various accessories. I don't claim this article to be the be-all-and-end-all of this tooling's history, and in fact there is one kit for which I only have a box cover image and no other information. During my research, more kits popped up that I never knew existed and I will be pleased to add more information to this article as new information surfaces. So, let us begin!
From what I have been able to determine, this tooling was first issued in 1978, barely recognizable as a GM pickup, in the form of the Sneaky Pete California Pickup. This kit depicts a heavily customized pickup with a big rig Peterbilt style front clip, big rig style wheels, exhaust stacks, bed rails, and a California Stepside bed (aside: California Stepside was a customizing company that offered stepside beds for full-size and quarter-ton pickups. They could be installed on any short-wheelbase pickup from any manufacturer). A separate cab roof insert piece was included that added clearance lights and mounted bosses for air horns. This kit was marketed as a glue kit with a very simplified chassis and molded in brown. Released under two different stock numbers, H-1379 and H-1380, with two box art versions.
This same tooling was also offered as the Midnite Cowboy Custom Chevy Wrecker, offering a clue as to the base pickup this kit was based on. This version replaced the California Stepside bed with a wrecker body and was again marketed as a glue kit. Released as stock number H-1383 and molded in black, this kit was also released in 1978.
Hoping to maximize the potential of this new tooling, Revell finished up the Chevrolet body adding a stock front clip but retaining the same simplified chassis and California Stepside bed. The Ice Patrol California Pickup kit was also released in 1978 and included off-road accessories, exhaust stacks, and a snowmobile. The cab roof opening was re-shaped slightly for a sunroof in place of the clearance lights. Molded in blue, this kit was issued with the stock number H-1384.
In 1978, the US's favourite down-home country boy was none other than President Jimmy Carter's little brother Billy. Simply by virtue of being the sitting president's brother, Billy Carter was afforded celebrity status and managed to bumble his way through many official duties (see his Wikipedia article). Hoping to capitalize on his fame, Revell modified their squarebody kit to reflect a replica Billy's "Redneck Power" Pickup. This version added a wood front push bumper, wood beside rails, and a bed cargo of beer bottles and other "redneck" gear. The original clearance light cab roof insert was used. This was the last version of this tooling released in 1978, molded in white and with the stock number H-1385.
In 1979, a new tooling intended for release as a line of snap kits was created based on the glue kit line Revell had been issuing. This new tooling included 4×4 suspension and was molded as a Blazer and a pickup with the same body dimensions as a Blazer. The first kit issued with this new tooling was the Chevy 4×4 Pickup. Molded in tan and black, this kit included a one-piece pickup body, molded fender flares, Fey rear step bumper, Hickey front bumper with winch and grille guard, and Jackman wheels. The cab roof of this version was completely closed. This kit was issued under the stock number 6200.
The same basic kit was also offered as a Blazer, which added the Blazer's removable hard top and removed the rear cab wall bulkhead. This version added a different front bumper but used the same wheels and rear bumper as the pickup, plus the addition of a roof rack with cargo that snapped into the molded in hardtop. Molded in grey and black, this kit was released in 1979 with the stock number 6204.
The Blazer was reissued again in 1979 with different decals as the Chevy Mudslinger, this time molded in tan and black. Other than the decals, this was a straight reissue of kit 6204. This version was given the stock number 6217.
The glue kit made a re-appearance in 1979 as the Big Red California Pickup. This was a straight re-issue of Billy Carter's Redneck Power pickup, only this time molded in red and given the stock number 7305. This would be the last stock pickup version with the clearance light cab insert.
For 1980, the glue tooling was heavily modified to produce the Big 6 Wheeler. This kit included many big rig accessories including a new grille and front clip, sleeper, and a long-wheelbase dually bed. The cab front the glue kit was modified to include a molded-in sunvisor and engine, and a hood scoop was added to the hood. The original cab roof insert was used. Released as a snap kit under the stock number H-6407, this kit was issued in red and black in the US and Canada and in blue and black under the Lodela brand in Mexico.
Again in 1980, the Big 6 Wheeler tooling was modified to return the cab's front clip to a stock pickup. The dually bed was replaced with a Holmes wrecker body, and the grille was modified to resemble a 1979 GMC only with no emblem. Also new to this version was a combination front push bumper and grille guard. This version was labeled as the Captain Hook Wrecker, molded in black, and issued under the stock number 6408.
Hoping to capitalize on popular TV show themed kits, Revell reissued the first version snap pickup as Jon's Chevy 4×4 from the show CHiPs. The actual kit, however, ended up having only the decals and body colour in common with the truck it was attempting to depict… A straight re-issue of kit 6200, this version was molded in blue and black and given the stock number 6421.
In the first of several combination kits, the glue kit last seen as the Big Red California Pickup was re-issued in 1981 as Mr. Sandman bundled with a sand rail-type off-road vehicle and a trailer. Molded in yellow and black, this was issued under stock number 7404.
In 1980 a new toy was sweeping the nation: the Stomper. These little battery powered 4×4 toys originally depicted a Chevy Blazer, Ford Bronco, Jeep Honcho, and a Dodge Warlock. In a licensing agreement with the owner of these small toys, Revell (now owned by Ceji) released a line of kits using existing tooling of Stomper vehicles adding the Stomper 4×4 wheels and lifted suspension. The first Stomper kit was the Blazer, and featured the same decals as the smaller, battery-powered version. Molded in black, this kit was issued under the stock number 6423.
A second Stomper kit was issued, this time on the snap pickup tooling. No other information is known about this kit at this time.
Sometime between 1980 and 1984 the snap kit pickup was re-issued, this time molded in blue and black. No other information is known about this kit at this time.
The second of the Revell squarebody combination kits was released in 1984. This issue featured the snap kit pickup molded in red and black accompanied by two dirt bikes and the same trailer as the Mr. Sandman kit. Issued with stock number 6411.
Also in 1984, a third combination kit was issued combining the Stomper Blazer with the same dune buggy and trailer as the Mr. Sandman kit only with stomper wheels for the trailer as well. Molded in white and black with the stock number 6508.
As part of a company-wide licensing agreement, Revell issued many kits under the HOT ROD Magazine label. One of these kits was the glue kit Chevy pickup. The kit was modified to include a front roll pan, rear drag slicks, sleek mirrors, and zoomie-style exhaust. All other accessories previously issued with this kit were not included. Molded in black, this kit was issued under the stock number 7135 in 1987.
This same kit was also issued in 1996 with different box art but curiously the same stock number. Again, molded in black.
This same version of the pickup was issued in a special promotional twin pack at K-mart stores bundled with a 1956 Ford F-100. This version was molded in dark green and featured green versions of the HOT ROD decals.
The fourth and last combination kit (to date) was issued in 1990. This version included the same glue pickup as the HOT ROD issue and was paired up with a Mach I racing boat and trailer. This kit was molded in white for the pickup and blue for the boat and trailer under the stock number 7240.
The Captain Hook wrecker was issued again in 1994, this time simply called Wrecker Truck. This version was molded in red under the stock number 6393.
The original Sneaky Pete/Midnite Cowboy tooling was issued again in 2001, not having seen store shelves since 1978. This kit was part of the Blacktop Warriors theme and labeled the Alley Rat. A straight re-issue of the Sneaky Pete, this version was molded in black and given the stock number 2145.
The street version of the glue kit pickup was again issued in 2004 as the 76 [sic] Chevy Street Pickup. This version was molded in yellow and featured the same decals as the HOT ROD Magazine issue. Stock number 0806.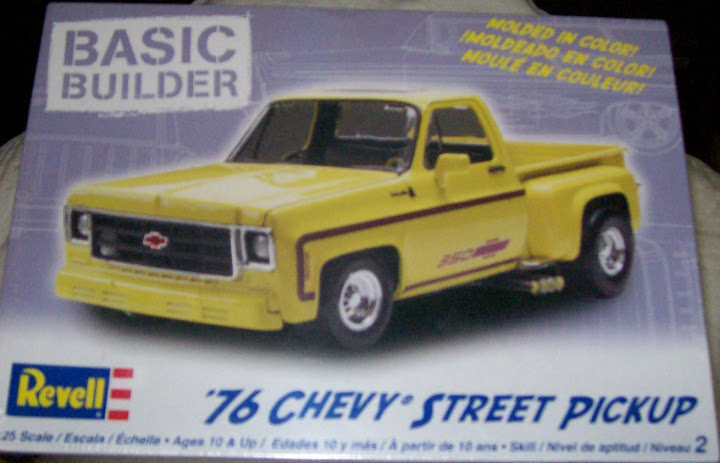 This same issue was also boxed in a Walmart only issue in the Motorworks series and included a tube of Testors glue. Molded in yellow with the same stock number.
The wrecker snap kit was re-issued again in 2012 as the '77 [sic] GMC Wrecker Truck, curiously as a glue kit. The only modifications to the kit since the 1994 issue were new decals and inclusion of Goodyear Tracker A/T tires instead of the original plastic tires. Molded in white, this latest version was issued under the stock number 7220.
Originally posted on Model Cars Magazine message board 19 May 2013. If you would like to share this article, please remember to credit the source.